Office and Commercial Cleaning Service in Sydney 
At Masters of Cleaning, we believe that clean office environment promotes higher productivity, ensuring good health of the workers. We offer prompt office cleaning service in Sydney. We understand every commercial space is different and may have different cleaning needs. Our commercial cleaning service is designed by the professionals who know where to start and how to get the space cleaned by industry standard without killing time.
We have been cleaning Sydney offices for more than 20 years now. Our Sydney cleaners are highly trained and have years of experience under their belt for which many office cleaning challenges are not familiar to them. From dusting, vacuuming to cleaning carpet, we leave no stone unturned to make your work station spick and span.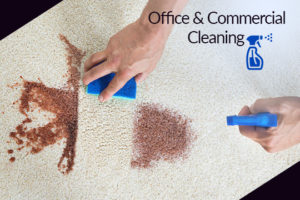 Cleaning Method
A highly professional thorough cleaning for a better working environment
Carpet cleaning: Our first concern is cleaning the office carpet which tends to get dirty very easily due to the daily foot traffic. Carpet is fibrous in nature which easily collects bacteria and airborne allergens can easily get into eyes, nose and eventually affect respiratory issues.  Daily carpet cleaning is a real hectic job when many workers working every day. We make sure to clean the carpet carefully within the given time. Our carpet cleaning service includes application of pre cleaning solution for stain and spillage removal. And then we use high pressure extraction to remove stubborn dirt and residues. Stain and odour cleaning is the final step to ensure the carpet is as new as it was first installed.
Doors and window cleaning: Oversized windows and hard to reach doors are very common in commercial spaces. Smuggy glass is not at all inviting in an office environment. Our trained Sydney cleaners are well-equipped and they have the expertise to remove dirt from any hardest corner. Cleaning widows also include vacuuming and wiping window sills.
Desktop and others:  We thoroughly check every space and desk to clean. No office environment is same and so the sizes. Whether it has 10 desks or more than that, we always make sure to clean everything hygienically. From working desks, telephone, computers, desk draws, chairs to bins, we can clean it all.
To know more about commercial cleaning service in Sydney, please feel free to contact us at-+ 61 402 733 307